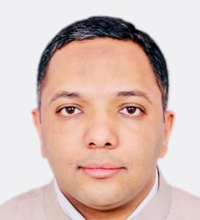 M. H. Hidayathulla Kuvenda
Managing Partner
hidayath@adlawpartners.com
Hidayath is the Managing Partner at Adlaw Partners and he manages the day-to-day affairs of the Firm. Apart from managing the activities of the Firm, he is a part of the Corporate Advisory, Dispute Resolution and Intellectual Property team. He has advised clients on varied legal issues relating to corporate, commercial, media & entertainment, and technology laws. He has also advised large private players in the domestic and international market on all aspects of formation, financing and structuring of investments.

Hidayath has negotiated and assisted clients in execution of business and asset acquisitions, joint ventures and strategic alliances, in-bound and out-bound investments; conducted high level and comprehensive due diligence exercises on Indian and foreign companies engaged in different sectors.

He has advised private equity funds on investments in Indian companies engaged in real estate and information technology sectors and drafted the relevant documents such as shareholder / share purchase/ share subscription agreements, escrow agreements, business and asset purchase agreements. He has also advised overseas investors on matters relating to foreign direct investment in India, assisted in establishing representative/liaison or branch offices, joint venture companies or wholly owned subsidiaries for the investors and obtaining the necessary FIPB/RBI approvals, where required. Hidayath has also lead successful negotiations on behalf of the clients in various corporate and commercial issues.

Hidayath has represented a large and mid size entities prosecuting and defending in the court of law and also has a vast experience in handling domestic and international arbitrations. He has a broad knowledge and ability to handle complex litigation issues and negotiating & settling disputes before it reaches the Court of Law. He has advised clients on information technology and intellectual property infringement and has assisted clients in initiating stringent and appropriate actions to safeguard the interest of the clients in the said areas.

Hidayath has advised clients on various issues concerning intellectual property rights. He has extensively advised clients on protection with regard to the infringement and enforcement of intellectual property. He has also advised and assisted several domestic and international clients on drafting, registration and prosecutions of trademark, copyright and patents.